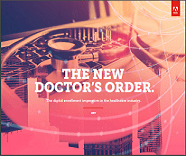 The goal of more positive and seamless engagement of clients is no longer a desire for the healthcare industry. It's an absolute necessity. See how the right tools can help you create a dynamic enrollment process that you can continually adjust, test, and optimize in our guide, The New Doctor's Order.
Read the guide to learn the key components of a modern digital enrollment program, including:
• Streamlined, mobile-optimized forms and digital signatures
• Integrated workflows
• Personalized communication and engagement
Simply fill out the form to download the guide.