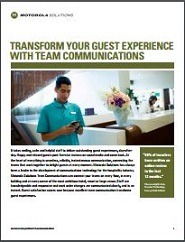 Are your hospitality teams fully connected and informed? Delight guests, ensure safety and improve efficiencies with instant team communications. With Motorola Solutions Team Communications offerings, workers can communicate instantly and securely anywhere and anytime via push-to-talk (PTT) between smartphones, radios, computers, landlines or any other devices. Augment PTT communications with a rich data application ecosystem for additional context and intelligence – like work order ticket management, GPS tracking, dispatch solutions and WAVE™ PTT. Download this brief to explore intelligent team communications solutions that can help your staff elevate the guest experience so they not only become repeat customers, but your best reviewers and advocates. Get insights and strategies that will help you:
Enable teams to consistently deliver outstanding guest experiences
Provide instant, secure communications across your entire complex, no matter the device or network
Unlock efficiencies that save time and reduce costs
Make guests and staff feel safer by better mitigating risks
Improve collaboration and decision-making via real-time information delivery
Get actionable advice on how you can enhance safety, efficiency and guest satisfaction – go now!