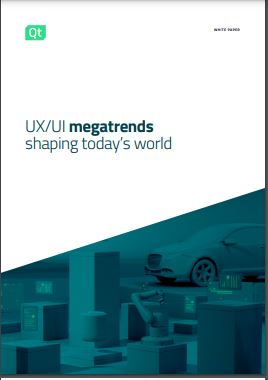 The current state of world affairs and the global macroeconomic challenges have negatively impacted product development. Still, they have also created the opportunity for UI/UX innovations to thrive.
We are seeing changing priorities, increased responsibility, new technologies, and more opportunities across the healthcare, consumer electronics, industrial automation, and automotive industries.
On the back of a recent study of 250 embedded device manufacturers from the UK, the US, France, and Germany conducted by Census wide on behalf of Qt Group, as well as our expertise and extensive research with clients, it was time to take stock of the UX/UI megatrends shaping the embedded technology industry.
As such, the emerging trends we foresee shaping R&D in the embedded device market over the next few years are:
• Multi-sensory experiences
• Interoperability
• Hyper-personalization
• Designing for voice
• Embedded analytics
Join us as we explore each of these exciting trends.