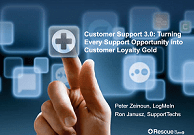 The accelerating trend of customer mobility, ever-increasing expectations of those same customers, and the explosion of end-user device options, are all pushing today's support organizations to the brink. Luckily for today's organizations, solutions and workflows are available to help them keep pace. By continuously improving your customers' support experiences, you've addressed one of the most important factors in earning their loyalty for life.
On this webcast, you'll hear:
• From Ron Janusz from SupportTechs: SupportTechs agents specialize in turning moments of frustration into opportunities to earn customer loyalty. The outsourced IT provider's service portfolio spans a multitude of end users and devices, and Ron will share a few of the key strategies that have made SupportTechs so successful.
• From Peter Zeinoun from LogMeIn: Peter will share his views on today's support challenges and showcase how LogMeIn continues to innovate its support solution, Rescue, in order to remain the tool of choice for today's support organizations.