(Source: Ship Technology) IT experts from all five companies are currently planning to create a set of common information technology standards that will be openly available...

(Source: Computerworld India) An effective AI solution requires domain expertise, a historical pool of clean data to … strength for highly sensitive data markets,...
Featured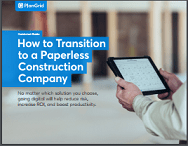 Rework due to poor document control costs the U.S. construction industry $4.2 billion a year. And an inconsistent record set is a primary cause of rework, which negatively...