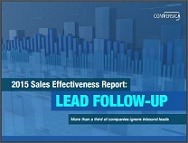 Our researcher visited the websites of 327 companies across nine industries and asked to be contacted. Unfortunately, more than one-third of companies we contacted did not respond at all, even though we contacted them with a direct, specific inquiry.
Among those who responded, here's how they performed on our four metrics: Promptness, Persistence, Personalization and Performance.
• Promptness: Only 8 percent of companies who responded did so within 5 minutes, the time when qualifying and conversion is most likely. More than a third took more than 24 hours.
• Persistence: 53 percent of companies made only 1 or 2 attempts to reply to the lead, and then let the opportunity slip away.
• Personalization: Although including a personal greeting or signature significantly increases the likelihood of lead response, 30 percent of companies in our study did not personalize their communication in any way.
• Performance: Email is replacing the phone as the most efficient way to contact leads, but the spam folder continues to be an obstacle. Among companies using email in our research, only 42 percent of respondents were likely to land in the lead's inbox more than 90 percent of the time.
With the large number of sales teams not hitting best-practice targets—not to mention the astonishing number of companies who did not respond at all—it's clear that inbound leads are not getting the attention deserved at many businesses. Prioritizing responsiveness and making use of sales and marketing technology can help.