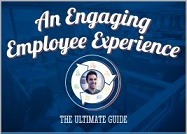 Turnover is a natural part of the business world, and every company must deal with it. But have you ever thought about why your employees think the grass might be greener at another company?
Our new eBook, "An Engaging Employee Experience: The Ultimate Guide," discusses some alarming stats about the science of employee engagement, and also offers strategies to make sure your employees feel valued and connected to the organization.
To learn more about how you can increase employee engagement, download this eBook now!