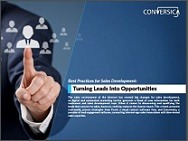 The Internet sales environment has evolved—your sales tools should too.
Heavy workloads, high turnover and a high volume of leads can hold back even a talented sales team. Having the right tools for the job can help. That starts with understanding your prospect base, your place in the market and the flow of prospects through your sales process.
In "Best Practices for Sales Development: Turning Leads into Opportunities," Conversica and Five9, a cloud contact center software firm, share real-world metrics, strategies and resources for businesses ready to evolve to the next stage.
In this ebook, you'll learn:
• Differences between outbound prospecting and inbound qualifying, and best practices for each type of sales development
• Why persistence is essential for qualifying and converting leads
• How to minimize the impact of high sales rep turnover and specialize for maximum productivity
• Where new sales technology can break up the bottlenecks in your sales pipeline and drive more closed sales
• How artificial intelligence and lead engagement software have helped sales professionals at Five9 build a stronger, more motivated and more productive sales team