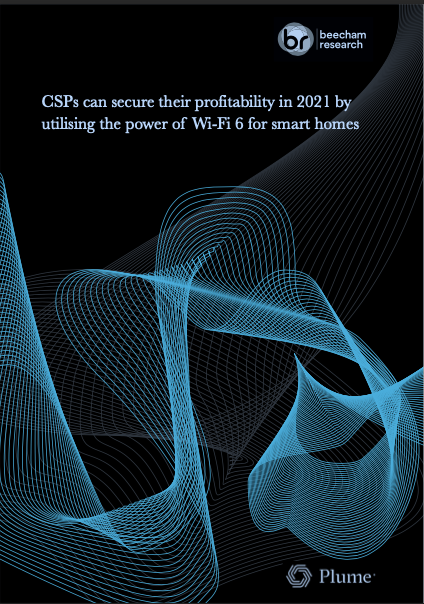 In this report, Beecham Research's CEO Robin Duke-Woolley examines how the first and only self-optimising, whole-home WiFi technology is delivering ISPs an increase of up to $15 smart home related ARPU.
The top 2 CSPs in the USA and two of the largest fixed-line providers in Europe have switched to this technology and are also seeing their NPS scores boosted by up to 60 points.
Inside the report:
• Exploring the benefits of Wi-Fi 6 and how this finally enables CSPs to compete with the big tech companies in the smart home space
• The latest strategy for leveraging AI, Cloud and Data Insights, in conjunction with WiFi 6, to reduce marketing and OPEX costs by up to 36.7%
• How self-optimising, whole home Wi-Fi has proven to reduce churn by 30%, TRR by 67%, deployment times by 67% and support calls by up to 50%
• A look at the profitable opportunities for CSPs that embrace Smart Home 2.0 solutions
• An in-depth interview with the CTO behind this tech
Plume® is the creator of the world's first SaaS experience platform for Communications Service Providers (CSPs) and their subscribers, deployed in more than 30 million locations globally. As the only open and hardware-independent, cloud-controlled solution, Plume enables the rapid delivery of new services for smart homes, small businesses, and beyond at massive scale. On the front end, Plume delivers self-optimizing WiFi, cyber-security, access and parental controls, and more. CSPs get robust data- and AI-driven back-end applications for unprecedented visibility, insights, support, operations, and marketing. Plume leverages OpenSync™, an open-source framework that comes pre-integrated and supported on the leading silicon, CPE, and platform SDKs.