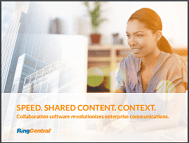 Most people have trouble keeping up with their email. According to a recent study by Yahoo Labs and the University of Southern California, as the volume increases, people reply faster with fewer words, and to less email. So, it should come as no surprise that people would find better ways to communicate.
Workplace collaboration software, also known as team messaging—which combines the speed of messaging with the context and content teams need to work together—is taking the enterprise communications world by storm. Ready or not, team messaging is coming to your organization. The best way to prevent it from becoming a stealth IT headache is to get ahead of users.
Read this ebook to learn how and why companies are empowering teams with user-friendly, consumer-grade apps with the robust security, control, and administration required by enterprises. Also included are five key considerations when selecting a team messaging platform. You can get the best of both worlds—user approved and IT vetted.