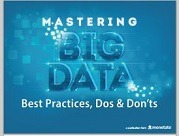 All of the buzz about big data has led to a big question: How can companies understand and use their own data without drowning in a sea of analytics?
Customer knowledge is competitive advantage and data is the key to ensuring your organization stands out from the crowd, helping you delight customers with relevant online experiences.
In this eBook, you'll find:
• Keys to leveraging your analytics without becoming overwhelmed;
• Examples of companies using big data effectively; and
• Mistakes your organization should avoid at all costs.