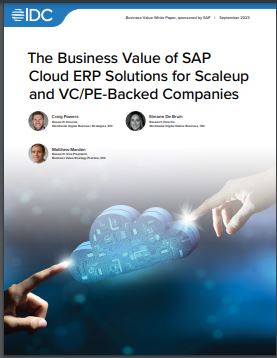 The Business Value of SAP Cloud ERP for Scaleups
The secret to successful growth is finding a way to grow faster with the resources you already have – but using them more efficiently and effectively.
To do that you need the right systems, processes, and technologies in place – and that's where we can help.
IDC's research shows that companies are achieving significant revenue gains and operational efficiencies with SAP Cloud ERP solutions, including:
• 12.1% total revenue gain
• 11.2% higher operating margin
• $1.02 million annual revenue gain per 100 employees
Download the IDC Business Value Snapshot, sponsored by SAP, today to find out more and access the full white paper.