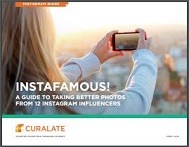 There's no denying that succeeding on Instagram isn't just science – it's art. To that end, we've enlisted the help of 12 Instagram artists to help you become a better one.
In this guide, you'll find:
• 25 ideas for telling authentic visual stories;
• Tips on which mobile apps and tools to try;
• 20+ images for Instagram inspiration.
Fill out the form to get your free guide, and start sharing beautiful images today. You can also get to know our contributors below.