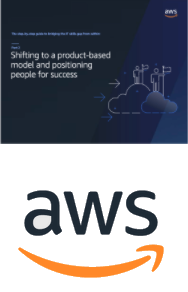 Welcome back, cloud innovators.
In Part 1 of this timely AWS eBook Series, we detailed the issues involved in identifying IT skills gaps within your organization. In Part 2, we'll review the steps it takes to shift your operational model from the inefficiency of traditional, activity-based processes to a product-based model in the cloud.
The time has come to overcome the skills gap—quickly, economically, and holistically. The future of your workplace is counting on it. Continue exploring the guide.