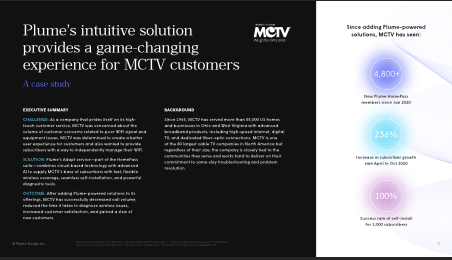 As an organization that prides itself on its has an organization that prides itself on its high-touch customer service, MCTV was concerned about the volume of customer feedback related to poor WiFi signal and equipment issues. MCTV turned to Plume for a solution that would help them exceed their customers' expectations.
This case study details how MCTV successfully leveraged Plume technology to:
• Acquire more than 4,800 new subscribers.
• Reduce truck rolls with a 100% success rate for self installation.
• Achieve a 236% increase in subscriber growth.
Plume® is the creator of the world's first SaaS experience platform for Communications Service Providers (CSPs) and their subscribers, deployed in more than 30 million locations globally. As the only open and hardware-independent, cloud-controlled solution, Plume enables the rapid delivery of new services for smart homes, small businesses, and beyond at massive scale. On the front end, Plume delivers self-optimizing WiFi, cyber-security, access and parental controls, and more. CSPs get robust data- and AI-driven back-end applications for unprecedented visibility, insights, support, operations, and marketing. Plume leverages OpenSync™, an open-source framework that comes pre-integrated and supported on the leading silicon, CPE, and platform SDKs.