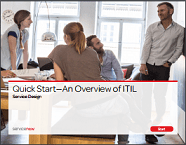 An ITIL eBook That is Not Boring
Your pain‑free guide to ITIL and Service Design
Learning ITIL is not for the timid or fainthearted. Memorizing the Service Design stage of ITIL is like climbing a mountain, in the snow, barefoot! Not fun. We know.
To help you learn this stage, you'll be asked to repeat terms out loud, draw diagrams, and express yourself through interpretive dance.
Okay, we're kidding about the interpretive dance, but you'll need to use more than one part of your brain. In this eBook you'll take a dive deep into:
• Service Design—what it is and what it is not
• Translations of ITIL 2011 Glossary definitions (the digestible kind)
• Seven service design processes to identify requirements and ensure delivery of services
Happy reading!