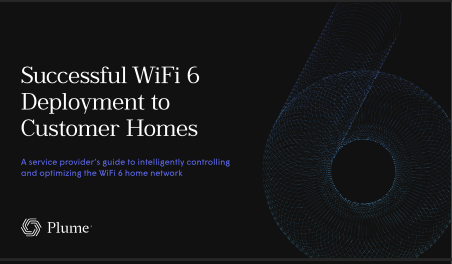 More and more smart home devices are entering the market every day. At the rate consumers are adopting new technologies, we anticipate seeing up to 32 connected devices per smart home by 2025*.
In light of this, CSPs need to rethink their business model with the smart home user in mind. Smart home technologies depend on fast and reliable connectivity, and if CSPs can satisfy these new demands, they can transform their current businesses, defend their market position in the face of new competition, and remain vital into the future.
Read the whitepaper to learn:
• Three operational strategies to drive future growth in a more competitive market.
• Tech investments to prioritize and enable new revenue streams.
• Insights on adopting a scalable smart home strategy.
Plume® is the creator of the world's first SaaS experience platform for Communications Service Providers (CSPs) and their subscribers, deployed in more than 30 million locations globally. As the only open and hardware-independent, cloud-controlled solution, Plume enables the rapid delivery of new services for smart homes, small businesses, and beyond at massive scale. On the front end, Plume delivers self-optimizing WiFi, cyber-security, access and parental controls, and more. CSPs get robust data- and AI-driven back-end applications for unprecedented visibility, insights, support, operations, and marketing. Plume leverages OpenSync™, an open-source framework that comes pre-integrated and supported on the leading silicon, CPE, and platform SDKs.