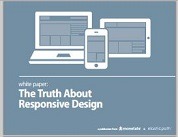 You may be saying to yourself, "Not another white paper on responsive design!" But after reading this white paper, you will have a better idea of what exactly responsive design is and understand why just having a responsive design website won't solve much unless you focus an equal amount of attention on delivering contextually relevant user experiences across all digital touchpoints.
Inside you will find:
• A history of the mobile web;
• Simple definitions of what responsive design is, and what it isn't;
• Pitfalls to avoid in redesigns;
• Examples of great responsive design website;
• And more.
So before you read another eBook, white paper or blog post that will just confuse you even more, download "The Truth About Responsive Design" and be on your way to turning responsive designs into responsive experiences that convert and delight every customer.