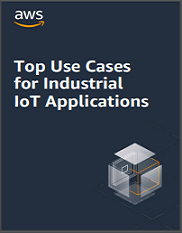 Optimize resources and deliver more output from your industrial operations
Amazon Web Services (AWS) Industrial IoT solutions deliver breadth and depth of IoT software and services. AWS provides solutions for Industrial IoT application deployment, security, predictive maintenance and quality, and asset condition monitoring.
In this eBook, explore how you can leverage AWS Industrial IoT solutions to maximize your investment in machines and equipment. You'll also learn:
• How to build predictive maintenance and quality analytics
• The benefits of scaling your applications with AWS IoT "plug and play" capabilities
• The solutions to organize, monitor and remotely manage devices remotely and over-the-air (OTA)
• How to collect, process and, analyze data quickly and easily to gain operational insights
Get started quickly and scale your IoT Industrial applications with AWS IoT solutions.