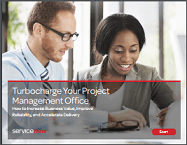 How to Increase Business Value, Improve Reliability, and Accelerate Delivery
Today, IT is the engine that underpins enterprise innovation and productivity. IT is no longer a back‑office function—instead, IT is expected to run like any other business department, making and successfully executing investment decisions that maximize business returns, lower costs, and quicken time to value.
While PMOs have to respond to growing business needs, they lack insight into business demands—and they lack the tools to prioritize these demands. How can you drive continuous improvement throughout the entire lifecycle of a project portfolio, creating a streamlined, effective PMO organization? Read our eBook for some proven ways to get started.